LEGO Creator Expert Winter Toy Shop Is A Popular One!

This is the Lego set that all moms are going to want to help their child build. This is the perfect holiday set to purchase, and it can even be a fun decoration for your house. The Christmas toy shop is my favorite set of Legos we own, and I love bringing it out once a year to help my child build it. Honestly, when my child grows too old for it I will probably still build it by myself because it is so cute. This is a great bonding activity to do while watching a Christmas movie, and you will love building it with your child. It comes with everything you could possibly need to build an awesome winter toy shop, and you will love building it. It is a one of a kind type of Lego set, so it is worth the high price of $72 in my opinion.
Best Features
This set comes with a ton of Legos, almost 900 total pieces. This is definitely an advanced set, so it is recommended that ages 12 and up build this set. Everything about this set is adorable, and you will love the small details that it comes with. It looks like it came straight out of the North Pole, and it could easily be said that it is Santa's workshop. The workshop itself measures as follows:
Winter Toy Shop measures over 6″ (17cm) high, 7″ (19cm) wide and 3″ (10cm) deep, Christmas tree measures over 5″ (15cm) high, 4″ (11cm) wide and 4″ (11cm) deep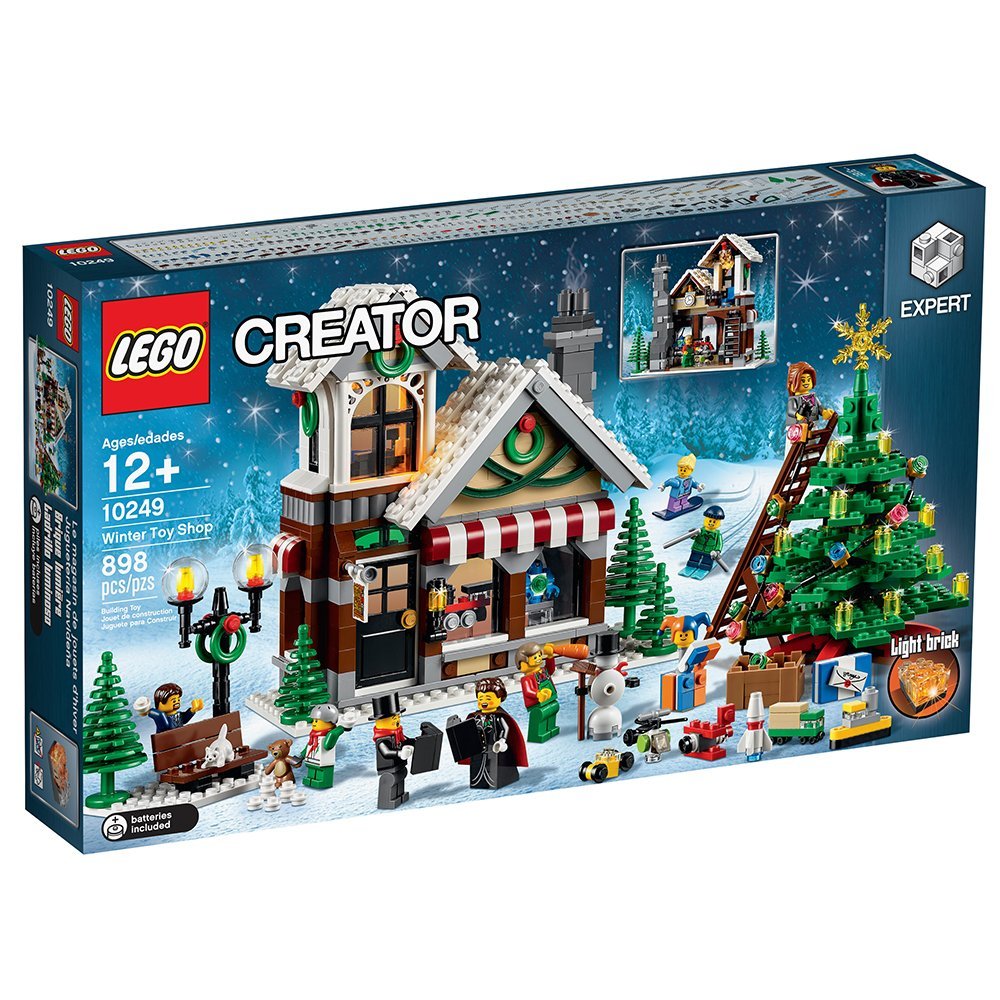 What's Included
This set comes with 896 Lego pieces, so you have everything you need to build this winter toy shop. It features a toyshop, large Christmas tree with decorations, ladder, bench, ornate streetlight, carrot-nosed snowman and a cat
Accessories include a wrapped gift, snowboard, skis, wreaths, 2 sets of strings lights, top hats, carol songbooks and toys, including a jack-in-the-box, a toy biplane, helicopter, rocket, train, race car, truck, robot, tugboat and a teddy bear element
Toyshop features a LEGO light brick, cash register, clock, chair, table, tools and a ladder
Pros
Besides coming with a ton of pieces, this Lego set is completely unique. It will last for years to come, and all your children will enjoy playing with this Lego set. If you have any hesitation to buy this, remember how long it will last you a long time. Each piece is high quality, and it is easy to build when you follow the directions. This building will challenge both you and your child's minds, and it is a fun activity to spend a day on. Afterward, you can display it proudly in your home.
Cons
The only bummer with this Lego set is you can only use it throughout the holiday season.
Final Verdict
This Lego set is amazing, and it is definitely worth the price. It is a fun holiday decoration, and you will enjoy building it each and every Christmas.