LEGO Creator Red Creatures
This is one of those classic Lego kits that every child needs to have. Forget about the crazy vehicles and figurines, this set will keep your child occupied for hours on end. One kit makes three different creatures, and it is perfect for those who love to build and rebuild. Everything about this set is fun to create, and the Lego blocks are made well. Your child will not regret getting this classic set, and if you have a house full of Legos this will be a welcome addition to your collection.
here is a direct link to the LEGO Creator Red Creatures video
Best Features
This one set makes three different creatures. The pieces are a bit smaller, so the set is best for older kids around the ages of 7-12. All of the blocks are red, and black, with a few gray and white to complete the creatures. The different pieces will keep your child busy for hours, but they aren't too complicated where you can't figure it out yourself. The set is easily transformable to make a dragon, snake, or scorpion. The dragon measures over 1" high, 11" long, and 9" wide. The scorpion measures over 4" high, 11" long, and 8" wide. The snake measures over 1" high, 14" long, and 1" wide.
 
What's Included
When you order this Lego Creator Red Creatures set, you get a set of Legos with 221 pieces. Each of these pieces will make up either a dragon, snake, or scorpion.
Pros
The creatures all look wildly different, so it isn't like you just re-purpose one or two pieces into something different. The creatures a little difficult to build, so it will keep your child occupied for quite some time. The creatures are realistic, and they are easy to play with. This set can be used over and over again, and the pieces will work with standard Legos as well.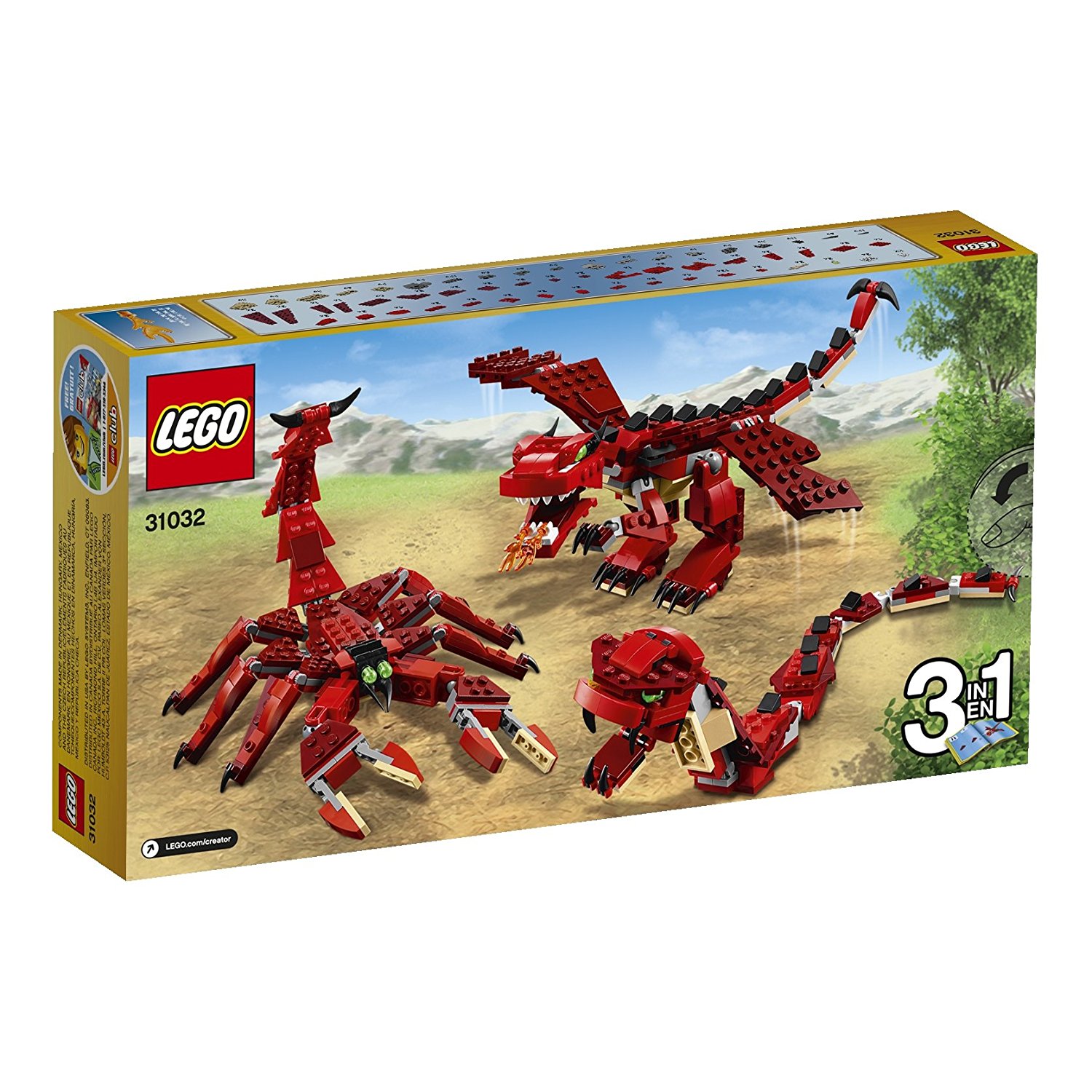 Cons
You cannot build all three creatures at once, otherwise all the pieces would not work. You can only build one creature at a time. Interested in other LEGO sets? Click here.
Final Verdict
For just $37.95, this set is a steal. You are technically getting three different Lego creatures from this one set, and you get over 221 pieces total. It is definitely worth every penny, and your child will love it. This is the perfect addition to a Lego household, and the difficulty level is perfect for older kids. This is a toy that won't be finished in 10 minutes, and it will keep your children entertained.